Commercial Electrical Services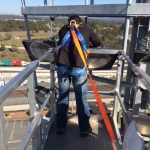 Are you looking for a reliable and trusted electrical company that can supply commercial electrical services to your business without impacting your operation?
For over 30 years, Scholz Electrical has been providing commercial electrical services to clients throughout Southeast Queensland.
Whether you're a real estate property manager looking to partner with a commercial electrician to manage electrical issues in units and townhouse, or perhaps you manage new shop fit-outs and want a reliable and cost effective contractor who can accurately quote on your commercial project work – we will look after you.
We have a wide range of commercial electrical services and are happy to provide free quotes. We are experienced in:
Wiring and cabling installation for offices, factories and shops
Large scale commercial lighting installation; factory flood-lighting, sporting field lighting and lighting for security purposes
Energy efficient lighting for shop displays and business interiors
Data and telecommunications cabling for office and business networks
Test and tag of equipment to meet industry and regulatory compliance
Three phase electrical works
Solar power design and installation to offset energy costs for your business
We're here to help!
If you would like an obligation-free quote on your commercial electrical requirements, our staff are happy to guide you through the process – call us on 1300 369 633 or submit an online enquiry and we will get back to you.
How Can We Help You Today!
Commercial electrical case studies
Why choose Scholz Electrical?
Our support-staff are professional:
Booking a job is hassle-free and our staff can arrange an in-house visit or advise on how to deliver your appliance to our workshop
Often it is necessary to source parts inter-state or internationally. We keep you updated so you're aware when your appliance repairs will be finalised
Our electricians have the expertise:
Our electrical company has been operating in Brisbane and surrounding areas since 1970
We are Master Electricians accredited electrical contractors
We are Clean Energy Council accredited electrical contractors
We believe in the value of our people and our clients
Our electricians have experience with a variety of appliances and brands
If you need a repairer, contact us, or call 1300 369 633 (local call) and one of our friendly support staff will be happy to assist with your enquiry.