Washing Machine Repairs Brisbane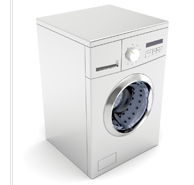 Scholz Electrical has over thirty years' experience providing washing machine repairs service in Brisbane. If you have problems with your washing machine and need it repaired quickly, we can help. We will also give you advice whether it's beneficial to repair your machine, or upgrade to a new model.
Our experienced electricians can repair all types of washing machines, including front-loading washer, top-loading washer, and washer/dryer combos. Furthermore, we understand it is extremely inconvenient when your washing machine breaks down. Therefore, we commit to repairing your washing machine in the shortest possible time.
Additionally, we are also available for washing machine installation service when convenient for you.
If you need an experienced electrician ASAP – Book to have your washing machine inspected today.
Why Choose Us For Washing Machine Repairs?
Our support staff are professional:
Booking a job is hassle-free and our staff can arrange an in-house visit or advise on how to deliver your machine to our workshop
Often it is necessary to source parts inter-state or internationally. We keep you updated so you're aware when your washing machine repairs will be finalised
Our Brisbane electricians have the expertise:
We specialise in repairing washing machines in Brisbane and surrounding areas since 1970
We are Master Electricians accredited electrical contractors
We are Clean Energy Council accredited electrical contractors
We believe in the value of our people and our clients
Our electricians have repairs experience with a variety of brands
If you need your washing machine repaired, contact us, or call 1300 369 633 (local call) and one of our friendly support staff will be happy to assist with your enquiry.
Contact Us For Washing Machine Repairs
Brands That We Do Washing Machine Repairs
Scholz Electrical technicians have worked on many brands of washing machines, including:
Washing Machines Common Problems & Troubleshooting
Below are some common issues that can cause a washing machine not to work. Troubleshoot and fix your washing machine with advice from our experienced electricians.
1. Washing machine doesn't operate
If the washing machine doesn't run or make any noise, there's a likely chance that it is not receiving electrical power. In this case, be sure the machine is plugged in and turned on. If necessary, check the receptacle it's plugged into for power, using a working lamp, appliance, or voltage tester. Another trigger that prevents the machine from running is the lid. Due to safety issues, some washer models will not work if the lid is not closed completely. Make sure you check that part before proceeding further steps.
2. Washing machine leaks
Leaking water from a washing machine usually comes from hoses or connections. The first part you should check where leaking water comes from is the hoses. Make sure the threaded fittings are tightened securely. Tighten couplings or hose clamps if needed. Also look for worn hoses and replace them.
Washing machine leaks can also be from other parts, such as water pump, tub cover gasket, water inlet valve, pressure switch, or air dome tube. Repairing these parts are quite complicated; therefore, they are better left in the hands of experienced electricians.
3. Washing machine stops mid cycle
Remember how you fix your computer from freezing? You restart or reset it. The same method can be applied for washing machine repairs. Simply unplug the washer to reset its system, wait for a minute and then plug the washing machine back in. This solution is less strenuous than other methods, yet usually works.
If you have a top-loading washing machine, the first place you could turn to is the lid switch. The lid switch is one of the most common reasons for washing machine malfunctions. It sends signal to inform the central system that the door is closed and it is safe for the machine to run. If it sags, it is likely broken and you need to replace that part.
The same issue happens for the door switch in front-loading washing machines. Due to either mechanical or electrical failures, the door lock might become defective and make washing machines stop mid cycle.
4. Washing machine doesn't rinse correctly
If residue remains on your clothes or in the washing machine following a cycle, the issue may have several causes. First, make sure you're using the machine as instructed in the manual: putting the right amount of detergent in the load, not overloading the machine, and so forth.
If the issue persists, chances are the water is either not getting into the drum or not draining out properly. Check the water supply valves and water supply hoses to make sure they are not blocked. If these measures do not work, you should call a washing machine repairs person.
Other Appliance Repairs We Service